So much has happened….Mum and Dad didn't think so. Therefore they didn't write anything. It has taken me forever to convince them to let me have my say. Someone should tell them you all prefer to hear from me, Albert. Then at least you would get more regular updates.


We have all been so busy with many wonderful people coming to stay. Well I have, SHE hasn't. SHE doesn't even try to look cute and play with anyone. SHE just wears a track where she runs and runs and runs and runs. Silly really. I ran too! Geez was Mum grumpy. I just went up the road. Then down the road. Don't know why, but I was tied up after that. I didn't mind, I was exhausted.


The Old Beech Shack and Camp kitchen were a huge hit. We have had many a fire and lots of yummy food. Many a story was told and records from way back before I was born had everyone dancing. Nearly everyone. Mum doesn't do dancing she says. The out station will be much better when we get fireplaces in. I don't get it either, there is the huge fire in the middle. Apparently you can never have too many fires. Something to do with kicking back, listening to music or spinning a yarn and being lovely and toasty warm.


Dad is really happy now to be, as he puts it, rusting away at home! We had a truck here in the paddock and Dad would go away for what seemed like a long time. But he is here all the time now. They are nearly finished a new room and garden. I love it, but no matter how much stuff they lift up I can't find a lizard or snake to chase. I suppose I will have to play with HER if they don't chase out anything. The next job is a bridge. I haven't figured that one out. Guess I will just have to keep watching to see what and where that is to be.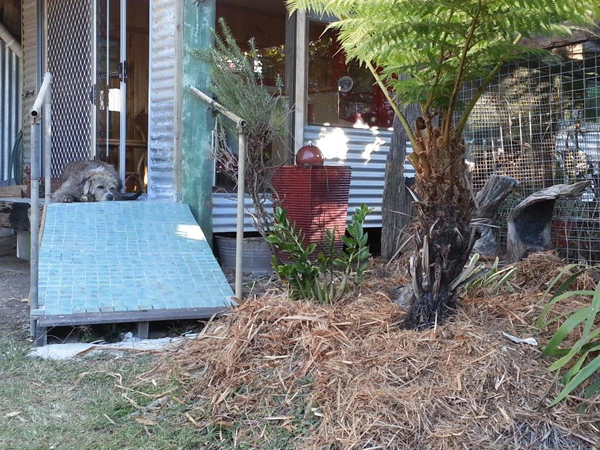 The room they are working on is a beautiful new massage room. Mum said it will be so much easier to have people coming into her new room. I don't know about that, the B&B rooms where she does all her massages now are really nice. What would I know about where massages are easier, I am a dog. She does give good massages, I just don't get one often enough. And no, I don't get my massage in the B&B rooms; I get mine on the verandah. That's me in the photo, if I lay outside the massage room maybe I will get a massage.


Paws crossed!


I better go, I need to slink away and hide so I get locked inside again. It was so warm by the fire. I may be very brave and ask for a bath tomorrow. I want to look my best for our new guests coming. Bath! Scrub that, I am adorable as I am. It isn't too late to come and stay and or book in for a massage. Don't worry about the cold, the massage room today was full of sunlight and out front it was lovely and warm. 30 degrees..where else but Queensland.