Albert River Bed & Breakfast has a vacancy for Easter!
Enjoy the peace and quiet in our relaxing surroundings. Throw a line in and try your luck. Ring to secure your booking.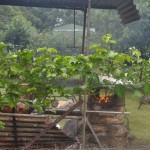 Thanks to Mahmoud for our latest photos. There will be more to follow. Mahmoud and Faye and young Zachareah claim to have had a great time when they joined us for a camp oven cook up and spit. The weather was kind to us allowing a feast to be cooked to celebrate a 40th birthday. Even sunday was fine for a spot of fishing, eels were the most exciting catch. Caused lots of squeals of excitement, or at least we assumed it was excitement. After airport shuttles to brisbane and gold coast airports it was sad to see an end to our hectic but fantastic weekend. A big thanks to Uncle Bob for all his fire duties and general running around. We won't tell anyone that you caught an eel.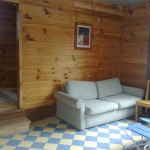 Well done Ben for catching a crab. We hoped he was good eating for you! We trust
you enjoyed your stay.
Get in quick for an Easter Booking! See webpage for details of booking.