I have been incredibly slack allowing Albert to keep you up to date. Logan is still nagging me to have her say but I feel I would be better to fill you in on all that's happened at our B & B.

As Albert said we have been working on 'The Old Beech Shack'. It is one of the buildings surrounding our new camp oven area that we have also been working on. Helen our guest from Sydney and Richard from the north very kindly offered to be our guinea pigs when we did a trial cook up. Even with inviting our marketing dude and his family we still had enough leftovers to feed all of Queensland.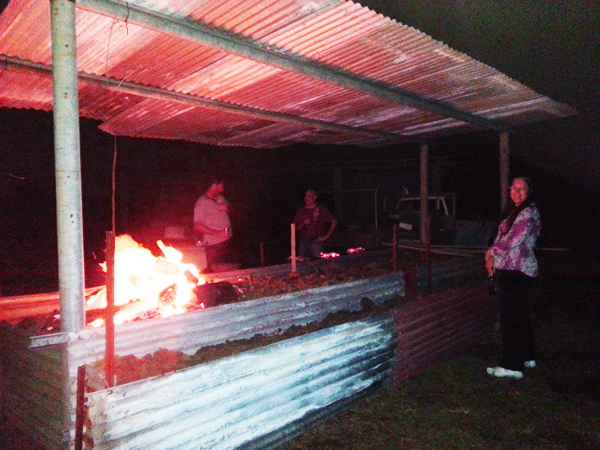 Not even the mud and frequent showers deterred us from having fun. Murray cranked up country music and the floor was cleared but we all decided it was too much effort and we were full as googs so dancing was out. We can't wait for Lynnda and her band to really get the party started. Next time!

Then….. The rains came. Not too much but just enough. One dam is half full and the other has a puddle. It looked like more than a puddle, but when we led the ducks there they were walking not swimming.

We still have lots to do, I think we always will. We are hoping to have 'the out station' ready by Easter for all our guests, and us, to kick back, relax, light a fire and throw a snag on the Barbie!

.