This charming photo is Peter and Barbara at the beginning of our new bridge. We managed to get it built in time for their use. Even though our weather here in QLD is beautiful, Barbara is dressed in costume for the Australian Rollerskating Championships. They both arrived back with medals.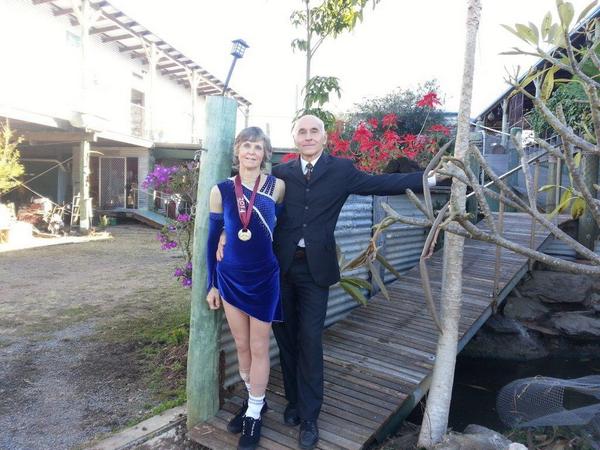 Well done to both. They have both now flown back to Western Australia, without even one demonstration of rollerskating down our many ramps.

Albert need wonder no more what the bridge is. Little does he know it was because of him we added an improvement to our entrance. It was bought to our attention that having to open gates was annoying. Those gates were to keep the master of escape in, so in no way is he getting credit for the new bridge. I hear you ask 'why can't he escape over the bridge'. We also put another gate in, it gives you complete access without being annoyed by Albert or Logan. They can only see you through the gate. So if you want them to visit you a request has to be made. If they have been really good perhaps they will be allowed. We should have put the bridge in years ago, I reckon we would have walked 20kms less.

All we have to do now is figure out a way to keep the ducks out and then the pond will return to clear and perhaps some more fish. Any suggestions how to
keep them out?